Watch the Big Ten Network in HD on FiOS TV
Tune to Channel 585
Agents available for the next 88:88:88
Big Ten Conference: Rich Rivalries and Celebrated Histories
The Big Ten is divided into the East Division and the West Division. With The Big Ten Network™ on FiOS® TV from Frontier®, you can watch every play of your favorite team—and the rest of the Big Ten—all in HD-quality.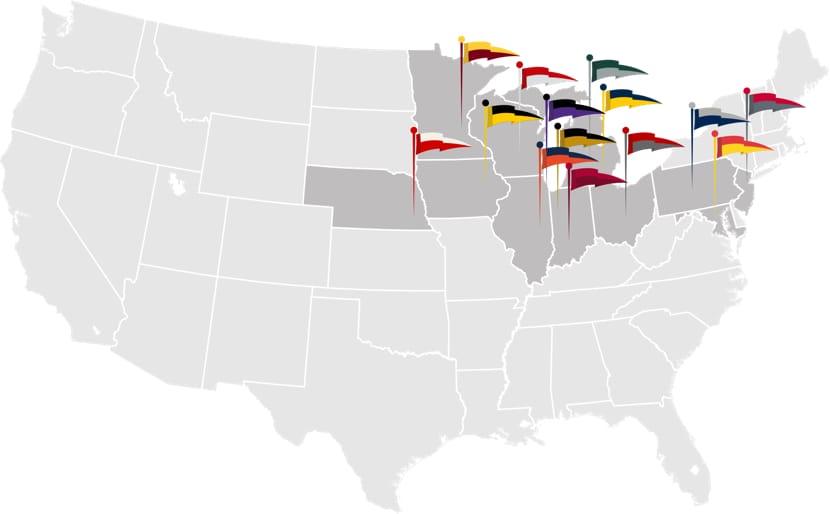 Big Ten East Division Teams
Indiana University
Bloomington, IN
Football Stadium: Memorial Stadium

Nickname: Hoosiers

Conference Rivals: Purdue University,
University of Illinois at Urbana-Champaign,
Michigan State
Fun fact:
The term "Hoosiers," might make most fans think of the 1986 movie starring Gene Hackman. The term "Hoosier" has been in general use since the 1840s, and can be traced to "The Hoosier's Nest," an 1833 poem by John Finley. While the exact meaning of "Hoosier" is a deep well of debate, for IU it means 24 NCAA team championships, and 169 Big Ten team championships.
University of Maryland
College Park, MD
Football Stadium: Capital One Field at Maryland Stadium

Nickname: Terrapins, or Terps

Conference Rivals: Penn State,
Rutgers
Fun fact:
The University of Maryland was a founding member of the Atlantic Coast Conference (ACC) in 1952 and switched to the Big Ten conference in 2014. Both Penn State and Rutgers have been rivals since 1917 and 1920 respectively, but now that the Terrapins are in the Big Ten, the rivalries are more intense and take on a larger significance.
University of Michigan
Ann Arbor, MI
Football Stadium: Michigan Stadium

Nickname: Wolverines

Conference Rivals: Ohio State,
Michigan State,
Minnesota
Fun fact:
Michigan v. Ohio State is considered one of the fiercest, oldest rivalries in college football. The two schools first met on the gridiron in 1897 and have played each other every year since 1918. The Michigan v. Ohio State game is usually the last game of the regular season and often decides the Big Ten champion. When the two teams met in 2006, both were undefeated. Michigan won, 42-39.
Michigan State University
East Lansing, MI
Football Stadium: Spartan Stadium

Nickname: Spartans

Conference Rivals: Michigan,
Indiana,
Penn State
Fun fact:
The MSU men's basketball team has sent the likes of Earvin "Magic" Johnson, Greg Kesler, Draymond Green, Morris Peterson, Mateen Cleaves, and Charlie Bell to the National Basketball Association (NBA). The last three—Peterson, Cleaves, and Bell—were known as the "Flintstones" since they all haled from Flint, Michigan. They were instrumental in the Spartans' 2000 championship run.
Ohio State University
Columbus, OH
Football Stadium: Ohio Stadium

Nickname: Buckeyes

Conference Rivals: Michigan,
Illinois,
Penn State
Fun fact:
Few football programs are as steeped in tradition as Ohio State. Its oldest tradition, dating back to 1913, is the Senior Tackle. Seniors are recognized during the last practice of the season, and get the opportunity to hit the blocking sled one last time. Its other traditions include Michigan Week and the ringing of the Victory Bell by members of Alpha Phi Omega after every win on the gridiron. Brutus Buckeye, Ohio State's mascot, was also inducted into the Mascot Hall of Fame in 2007.
Penn State University
State College, PA
Football Stadium: Beaver Stadium

Nickname: Nittany Lions

Conference Rivals: Michigan State,
Minnesota,
Ohio State
Fun fact:
Penn State football is commonly known as "Linebacker U" since it tends to produce outstanding linebackers, like Jack Ham, Shane Conlan, Sean Lee, and NaVorro Bowman. None are Penn State's all-time leading tackler, though. That honor is currently held by Dan Connor and his 419 tackles. He was drafted by the Carolina Panthers in 2008.
Rutgers University
New Brunswick, NJ
Football Stadium: High Point Solutions Stadium

Nickname: Scarlet Knights

Conference Rivals: Maryland
Fun fact:
Rutgers is considered the birthplace of college football. Why? Because it played against Princeton in the first intercollegiate football game, in 1869. Rutgers also has a club Quidditch team that has been competing since 2013. Yes, Quidditch, just like the sport Harry Potter plays, but without flying broomsticks.
Big Ten West Division Teams
University of Illinois
Champaign, IL
Football Stadium: Memorial Stadium

Nickname: Fighting Illini

Conference Rivals: Northwestern,
Indiana,
Ohio State
Fun fact:
While baseball is the oldest sport at the University of Illinois at Urbana-Champaign , and football generally draws the largest crowds, the men's tennis team is one of the most successful collegiate tennis programs. Along with its nine consecutive Big Ten Championships from 1997–2005, it also holds the NCAA record for longest consecutive win streak with 64 match wins.
University of Iowa
Iowa City, IA
Football Stadium: Kinnick Stadium

Nickname: Hawkeyes

Conference Rivals: Minnesota,
Wisconsin,
Nebraska
Fun fact:
Like many Big Ten schools, Iowa's football team has a storied history, and a large part of that involves its oldest rival, Minnesota. The two teams first met in 1891, and since 1935, they have played against each other for the Floyd of Rosedale, Iowa's oldest trophy.
University of Minnesota
Minneapolis, MN
Football Stadium: TCF Bank Stadium

Nickname: Golden Gophers

Conference Rivals: Wisconsin,
Nebraska,
Iowa
Fun fact:
With 126 meetings dating all the way back to 1890, Minnesota and Wisconsin have one of the most-played rivalries in college football. Since 1948, they have played each other for the coveted Paul Bunyan Axe. Originally, they played for the Slab of Bacon, a piece of black walnut wood with a football in the middle that bears either "M" or "W," depending on the winner; however, it went missing in 1943. It was discovered in a storage closet in 1994 by a Wisconsin intern named Will Roleson.
University of Nebraska
Lincoln, NE
Football Stadium: Memorial Stadium

Nickname: Cornhuskers

Conference Rivals: Wisconsin,
Iowa,
Minnesota
Fun fact:
Nebraska's women's volleyball team has more wins than any other program, and is one of three volleyball programs not on the West Coast to have won a national championship. The storied history of women's volleyball at Nebraska doesn't stop there. It has produced 73 All-Americans, and its 35 consecutive winning seasons is tied with that of Hawaii, Penn State, and Stanford.
Northwestern University
Evanston, IL
Football Stadium: Ryan Field

Nickname: Wildcats

Conference Rivals: Illinois,
Iowa,
Wisconsin
Fun fact:
Northwestern and Illinois compete for the Land of Lincoln Trophy each year, but Northwestern students consider its rivalry with Wisconsin to be the bigger deal. And while its football program has produced a number of NFL players, Northwestern has also produce Olympic athletes like swimmer Matt Grevers, who won gold during the 2008 and 2012 Summer Olympics.
Purdue University
State College, PA
Football Stadium: Ross-Ade Field

Nickname: Boilermakers

Conference Rivals: Illinois
Fun fact:
Every year, Purdue and Indiana meet to battle for the Old Oaken Bucket. Though the two rivals have faced each other on the gridiron since 1891, it wasn't until a joint meeting of the Chicago chapters of the two alumni organizations, in 1925, that the Old Oaken Bucket was decided on as a trophy. There, they drafted a resolution specifying that the winner "should attach the block letter representing the winning school to the bail with the score engraved on the latter link."
University of Wisconsin
Madison, WI
Football Stadium: Camp Randall Stadium

Nickname: Badgers

Conference Rivals: Minnesota,
Iowa,
Nebraska
Fun fact:
At one time, Wisconsin replaced its "Bucky Badger" with a racoon named "Regdab." Take a minute and read "Regdab" backwards. What do you get? Badger! Bucky Badger, however, is the one in the Mascot Hall of Fame's College Division. The Badgers have won 194 Big Ten conference championships and 28 NCAA championships.
Catch All the Big Ten Plays in HD
When you add the Big Ten Network to your FiOS TV package from Frontier, big plays are more exciting and you're not limited to just the rivalry football games. With the Big Ten Network and FiOS TV, you can catch all Big Ten sports, pre- and post-game coverage, in-depth player interviews, and even epic rivalry games from past seasons.