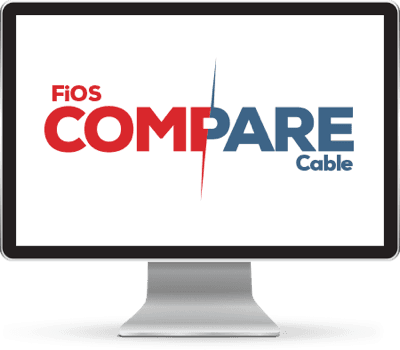 Compare FiOS Internet vs. Cable
Compare Internet Services and Speeds
When compared to cable, fiber-optic Internet has clear benefits: (1) more reliability, (2) faster average Internet speeds, and (3) better value when it comes to Internet Plans. Read below to compare these Internet services in detail and understand why in the end, you'll want FiOS® by Frontier®.
Slow Internet Service Provider?
The type of wiring, whether copper or fiber, has an impact on Internet speed. It isn't necessarily a simple apples-to-apples comparison.
When comparing fiber vs. cable, it's important to understand that cable is made of copper wires, and copper can react to things like changes in temperature. A change in temperature can cause copper wires to expand or contract, which can impact your Internet speed. Fiber-optic networks, on the other hand, are composed of millions of tiny strands of glass. The chemical nature of glass makes it less susceptible to things like temperature changes, so you may not notice a change in your fiber-optic Internet speed.
Copper wiring has been employed by telephone companies since 1948, so sometimes it is all that is available. Fiber-optic networks are gradually replacing copper, making it possible for HD quality picture and sound, and changing the nature of the way we stay connected.
Fiber-Optic Infrastructure
FiOS is a premier technology, and fiber providers update lines in order to maintain the best service possible for each user, giving you the best in fiber optic reliability. FiOS facts:
Immune to environmental factors due to a glass insulation core that prevents interference from electric signals nearby
Temperature spikes do not diminish quality of connection
Can even be submerged in water without interruption in service
FiOS Internet Security
Because fiber-optic lines do not radiate signal like a damaged copper line, your data is safe and secure. Providers ensure that your information is safe by:
Continuously monitoring FiOS lines and deciphering when they might be leaking light which could cause a system fail
Monitoring the physical security of your connection
Informing you of a possible data breach
Compare Internet Providers
Comparing FiOS Internet Connections to Cable Internet
The average Internet speed in American homes is 15.3 Mbps.1 Frontier's fiber Internet plans start at 30 Mbps and the speeds are highly dependable, so don't give up the speed you want. Get fiber Internet service instead.
Higher average speeds
Cable Internet download speeds can run between 10 and 250 Mbps in some areas, while FiOS starts at 30 and goes all the way up to 500 Mbps in residential areas. Both offer a Gigabit connection on rare occasions (and Frontier offers a 2 Gbps tier), but in the future, faster speeds will only be achieved through fiber-optic networks, which is smaller than copper wiring and can send exponentially more data per strand.
Lightning-fast load times
Cable's copper network burns off data packets as they make their way to your home, and you experience that lost data as lag. Fiber sends light waves that easily carry to the end of the connection, which lowers the latency rate and gives you an almost instantaneous response when you click a link online.
More reliable speeds
If faster cable provider speeds are available in your area, they may still be slower than advertised. That's because cable networks don't manage high traffic as efficiently as the FiOS network. With fiber, the traffic in your neighborhood won't noticeably slow your speeds.
Symmetrical speeds
Most Internet providers sell packages with upload speeds that are only a fraction of the download speed. That's surprising in this digital age of sharing, when people rely more and more on upload speeds to give them high-quality video chat, social media posting, online gaming, cloud backup, and more. Frontier FiOS Internet speeds are always symmetrical, with uploads as fast as downloads, so they match how people actually use the Internet.
Reviews of FiOS
I switched from Comcast to Frontier FiOS and am so happy! No more "buffering" messages when streaming Netflix!!! And I'm saving a good chunck of money every month. The installation guys were terrific, getting me up and running even though the FiOS line had been accidentally cut when new sewer pipes were being laid. Nothing but good to say.
—Patricia Long, 7.13.16, Venice FL
Compare Internet Prices: FiOS vs Cable
The surprising truth about FiOS Internet prices
When you compare Internet prices between fiber vs. cable download speeds, FiOS costs more. But when you compare prices of cable providers per upload speed, FiOS is cheaper—a lot cheaper. Thanks to Internet service providers like Frontier that offer symmetrical speed tiers, you can get upload speeds that are over 18x faster than cable's while still paying a reasonable price.
FiOS Package
Price per megabit for 100Mbps package
---
Upload: 100Mbps
Download: 100Mbps
Cable Package
Price per megabit for 100Mbps package
---
Upload: 4Mbps
Download: 100Mbps
Put in a little more money—get a LOT more speed!
Why Choose Frontier Communications?
Because we stand by our prices and the quality of our service.
With Frontier's recent acquisition of Verizon FiOS Internet lines throughout the country, we provide some of the most reliable service in the nation to customers in both rural and metropolitan areas. The expansion of our territories provides Verizon Internet customers with more options for even better service. Our rating of 73 on the satisfaction index ranks our service as the best in the business. We stand by our product and the quality of internet service our customers receive. Keeping you connected is our specialty, and we take pride in making sure you're satisfied with your internet experience.
Frontier Rated the Fastest DSL by Netflix
Frontier offers DSL download speeds up to 24Mbps and upload speeds up to 3Mbps. Speeds with other brands offering DSL typically reach up to 1 to 2 Mbps maximum. Netflix rates Frontier's DSL speeds as the fastest option of all providers.