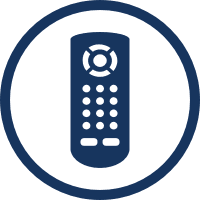 The Best Media Streaming Devices
Tell us your streaming preference, and we'll tell you the best Internet connection speed for streaming your stuff.
What is the Best TV Streaming Device for You?
It's time to upgrade from streaming video on your laptop or phone to a proper TV with Internet and TV packages from Frontier®. Not only will your screen size increase when you make the switch but you can consolidate all your streaming subscriptions in one place, too. Hulu®, Amazon® Video, Netflix®, and more–are accessible from a TV streaming device. Since there are so many ways to steam your favorite shows, it's hard to know what best streaming device fits you and your families needs. Keep reading to discover the best TV streaming device for you.
The Streaming Stick
What is a streaming stick?
A streaming stick is an HDMI plug-in bar that connects streaming services directly to your TV set. Low-profile and easy to use, a streaming stick is the simplest way to watch TV on a TV again. Streaming sticks are also portable, so you can carry your personalized online streaming collection with you to friends and family's homes, to hotels, or any other place with an HDMI hookup. Streaming sticks usually offer apps for light gaming, as well.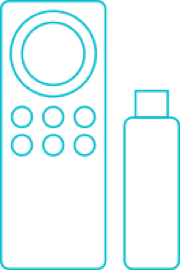 Amazon Fire TV Stick
Best Features
Over 4,000 channels, apps, and games
Dolby Digital and 4K streaming support for serious audiovisual quality
Decent gaming options for casual players
Parental controls for family-friendly streaming
Voice search via app or remote
Drawbacks
Provides access to Netflix and other streaming TV services, but tends to push Amazon Prime products
Only light gaming available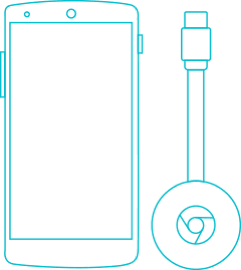 Chromecast
Best Features
Over 2,000 channels, games, and apps
Supports Netflix, YouTube, Spotify, and more
Most affordable streaming stick
Drawbacks
Only 512 MB of memory, which limits quality
Not a user-friendly interface; it simply projects your mobile or computer screen onto a television or larger monitor
Must be paired with a mobile or tablet to function, creating more potential for lag
No voice search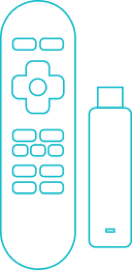 Roku Streaming Stick
Best Features
Over 3,000 channels, apps, and games
Extremely powerful quad-core processor (most have dual-core) for quicker, smoother navigation
Voice search via app
Supports HD video
Drawbacks
Has less than 1GB of flash storage
Limited gaming options
Is a streaming stick right for me?
If all you care about is breaking free from your computer crouch, get a streaming stick. It's the most user-friendly streaming device by far. Streaming sticks are also perfect for the frequent traveler or someone who just wants to save space in the living room. And don't worry about sacrificing quality—a streaming stick can give you decent HD quality as long as your monitor is equipped for it.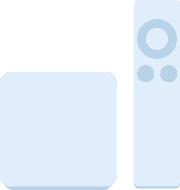 Media Streaming Boxes
What is a streaming box?
Like streaming sticks, streaming boxes were made to transform any ordinary TV into a smart TV. But generally, streaming boxes are larger and equipped with better processing capabilities, more or different apps, sophisticated voice search, and other advanced features and settings.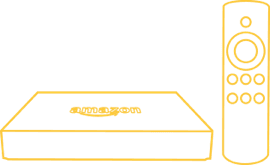 Amazon Fire TV
Best Features
Enjoy over 4,000 channels, apps, and games including access to over 250,000 TV episodes and movies on Netflix, Amazon Video, Hulu, and more
Supports 4K UHD capabilities
Voice search via Fire TV Voice Remote
Expandable storage up to 200 GB
Quad-core processor for fast, fluid navigation
Offers 1,200 games, more than any other streaming media player
Also comes in a gaming edition
Drawbacks
Offers the same internal storage as the cheaper Fire TV Stick (8 GB)
Card sold separately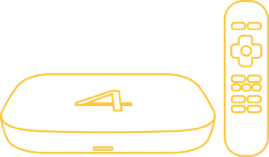 Roku (Gen 2-4)
Best Features
Access to over 3,000 streaming channels and apps, with 300,000 movie & TV episodes
Voice search available through the Roku remote or the Mobile App
Roku 4 is compatible with 4K streaming displays for top-notch visual quality
Headphone jack available for private listening on Roku 3 and 4 remotes
Netflix & YouTube instant starts for fast loading
All models have at least dual-core processing; Roku 4 has quad-core
All models include USB/Micro SD card ports so you can load your own media
Roku 4 comes with a remote-finding feature
Drawbacks
Roku 2 and 3 have remarkably similar capabilities, but the price shoots up for the Roku 3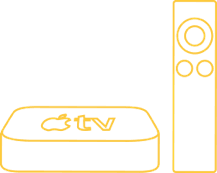 Apple TV (Gen3 and 4)
Best Features
Excellent Siri voice search with nearly hands-free navigation
Full access to music, TV, and movies from iTunes (Gen 3)
Access to the entire App Store (Gen 4)
Serious sound quality with Dolby Digital 5.1 (Gen 3) and Dolby Digital Plus 7.1 (Gen 4)
Powerful dual-core A8 processor (Gen 4) and sleek Glass Touch surface (Gen 4)
Remote with IR transmitter and Bluetooth 4.0 capabilities
Smooth, well-designed user experience
Robust online shopping
Drawbacks
Not great for heavy gaming, so may not be cost-efficient for some households
Pushes Apple products, which may be frustrating to the brand-agnostic
Gen. 3 has only a single-core A5 processor
Gen. 4 is bulkier than previous models
Is a streaming box right for me?
A streaming box is right for you if you like basic, easy-to-use streaming technology but expect consistently higher quality and choice than you can get from a streaming stick.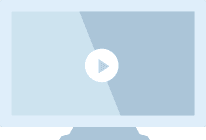 Stream on a Smart TV
What is a smart TV?
A smart TV is a television that can connect to online streaming services and other apps without the help of an external device. The smart TV brings you audio and video streaming in one sleek device, with no HDMI plug-in to keep track of. For those who dial in to conference calls from home or those who frequently video chat with friends and family online, smart TVs usually have cameras built in for fast and easy video chatting.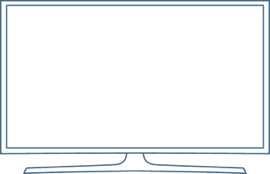 Samsung
Best Features
All smart models support 4K UHD resolution
Curved screens available
Smart Hub built-in Wi-Fi
Switch easily from app to app
Remote uses computer-style cursor so pointing and clicking is more intuitive
Search and navigate via voice control and even hand gestures!
Screen share available, so you can display your mobile content on your TV
Split screen feature lets you open two windows at once for easy multitasking
Can be set to automatically turn on, show weather broadcast, and display schedule each morning (when paired with smartphone)
Drawbacks
Must have a Samsung phone to get the full capabilities out of the device
Advanced models can be cost-prohibitive if all you want to do is stream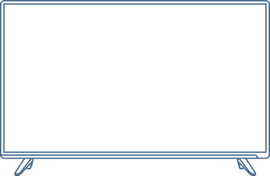 Vizio's SmartCast™ TVs
Best Features
Variety of resolutions available, from HD to ultra HD (4K)
Full-array LEDs for backlighting
Most advanced models come with sophisticated tablet remote with 8GB+ storage
Most advanced models have Ultra Color Spectrum, High Dynamic Range & Dolby Visio™ support
Quad-core and even octa-core processors for high computing efficiency
Advanced voice search
Drawbacks
Only the most advanced (and expensive) models have built-in Wi-Fi
No USB for viewing owned content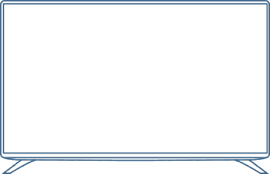 LG Smart TVs
Best Features
Partnered with Netflix, Amazon, Hulu Plus, as well as VUDU, YouTube, and Google Play
Full access to LG App Store
Many models are ENERGY STAR® Qualified with LED/OLED technology
Affordable models starting as low as several hundred dollars
Variety of resolutions available, from HD to ultra HD (4K)
Screen share available
Virtual Surround Plus available
Drawbacks
Advanced models can be cost-prohibitive if all you want to do is stream
Can be compatibility issues with non-LG smartphones
Should I get a smart TV?
If the longevity of your streaming device is important to you, you'll get more from a smart TV than a streaming stick or box; smart TVs are greater investments for the brands and therefore likely to have their software supported longer. For the design-conscious who just want a clean and minimal streaming experience, a basic smart TV is a great choice. For others, advanced smart TVs can give all the streaming quality you could hope for while also doubling as a general home media hub for browsing, scheduling, and more. While smart TVs have been cost-prohibitive in the past, today manufacturers are making them more affordable.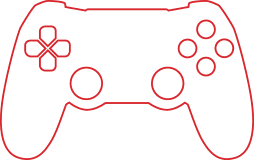 PlayStation 4
Best Features
Access to PlayStation Music™ and PlayStation Store® and major streaming apps, as well as hobby-specific apps like NFL Sunday Ticket, Qello Concerts, and more
Impressive library of box-office and indie gaming hits
Wireless stereo headset for private listening, with 7.1 virtual surround sound
Universal Media Remote can control up to 3 third-party devices, e.g., TV, cable box, or audio receiver
Supports 4K UHD streaming
Drawbacks
4K UHD streaming applies only for photos and video; not gaming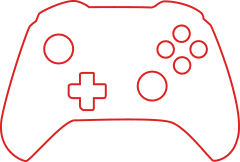 Xbox One
Best Features
Massive cloud-based game and movie store
Supports movie, TV, and game streaming in HD, as well as 4K video (with compatible monitors)
Includes premium offline media features like built-in Blu-ray player and digital storage for movies and games
Ideal for households with streamers and gamers
Drawbacks
Expensive, especially for those who aren't gamers as well
Bulky, not portable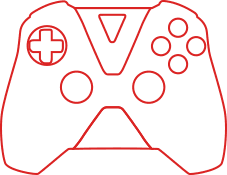 Nvidia Shield
Best Features
Capable of streaming local media and even live TV!
Impressive gaming capabilities
Streams games, movies, and TV in HD and even 4K video (with compatible monitors)
Large storage capacity
Drawbacks
Expensive, especially for non-gaming households
Large and difficult to transport
Is game console streaming right for me?
The above guide is a great way to find and compare the best streaming device that fits your needs and TV viewing habits. From streaming sticks to gaming consoles, discover the streaming device that is the perfect fit for your life and finally upgrade from streaming on a laptop or tablet. As gaming consoles are one of the most multi-faceted streaming devices out there, let this guide help you choose which gaming console is best for you.
Do I Need Extra Speed for My Streaming Device?
Yes, all streaming devices require some bandwidth beyond the minimum required for active streaming. The bandwidth needed for media devices isn't standard; the Chromecast, for example, may need more than other streaming sticks because the data has to go through your phone first, while another may need more because it stays on in the background. The good news is that across the board, media devices don't need much speed just to run. In fact, adding one more Megabit per device to your plan speed will usually give you more than enough bandwidth.
Still seeing lag?
Check in with your router
If you have a UHD screen, a Roku 4 streaming box, and a 200Mbps connection and you're still seeing lag, get a new router. New routers are built to manage packet data more efficiently, which improves streaming.
Media Streaming with Frontier
For the best streaming, you need fast and network-ready Internet
With a download speed of 3-5Mbps, you can enjoy quality streaming for movies, TV, music, and radio. What you can't enjoy is a virtually lag-free connection for every game console or streaming device being used concurrently under your roof. For today's increasingly connected homes, Frontier offers Internet and FiberOptic® Internet plans that make more room for each gamer, social butterfly, and video streamer in your home.
Internet
as fast as 24Mbps
FiberOptic Internet
as fast as 200Mbps