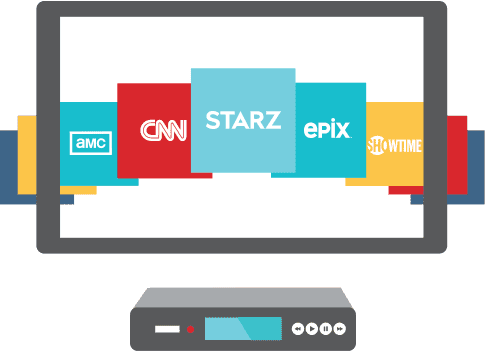 Watch What You Want, When You Want.
Frontier Internet + On Demand Apps = Your Best Experience
Agents available for the next 88:88:88
Get the Most from On Demand Services
According to a July 2015 survey by Statista–an online statistics, market research, and business intelligence portal—24% of people stated that content was the deciding factor when it came to choosing which streaming service to subscribe to.
But figuring out what content is available through what streaming service, and the plethora of apps, can be daunting and confusing. Do you need a TV subscription? Is there a free version? What can you watch on the free version versus paid? Where can you watch all your favorite shows?
Here's what you need to know about the different options…
ABC and NBC Apps
Both ABC® and NBC® have their own apps available for download on iOS and Android, in addition to a variety of other devices, like Roku, Apple TV®, Amazon Fire®, and XBox One.
The NBC streaming TV app is also available on a number of other devices, such as XBox 360 and Samsung Smart TVs while ABC is available on Android TV.
Read More
CBS and CBS All Access
With the CBS® app, you have two different streaming options: its free streaming service, and CBS All Access.
You get access to primetime, daytime, and late-night episodes in HD the day after they air with its free app, and can view its primetime schedule. You can also access CBS streaming content via the FrontierTV app (Apple, Android).
Read More
Watch ESPN
While the Watch ESPN® app is free to download for iOS and Android, you need a TV subscription that includes ESPN in order to stream content.
If your TV subscription includes ESPN, the floodgates are wide open. You get access to live sporting events like Monday Night Football®, college football and basketball, major league baseball, golf, even ESports and shows like Sports Center and Baseball Tonight.
Read More
Netflix
Netflix® is a stand-alone subscription service, so you don't need a TV subscription to access its content. You can stream movies and TV shows, but not live TV. It does require a fast, network-ready Internet connection.
It's accessible through the Netflix app from both iOS and Android, as well as laptops and desktops, smart TVs, PlayStation 4, Xbox, Chromecast and even Blu-ray players. It also comes integrated into platforms such as Frontier Quantum and Vantage™ TV by Frontier.
Read More

Hulu®, like Netflix, is a stand-alone subscription service and requires a fast, network-ready Internet connection connection to stream content. A big difference is that Hulu not only lets you stream movies and TV shows that have already aired, but also the latest episodes and new shows from network TV.
Hulu is accessible on a variety of platforms and devices, including iOS and Android, Apple TV, Roku, Chromecast, PlayStation 4, Xbox One, smart TVs, and Blu-ray players.
Read More

VUDU® is an On Demand service that lets you rent, buy, and watch movies and TV shows. Prices vary, depending on whether you're renting or purchasing a movie, or purchasing a single episode of a TV show or a complete season. Other factors can also determine pricing:
Current promotions
HD content
Independent studio release
Still in theatres release
Read More
Have any questions? Call one of our Customer Service Specialists to Learn More.
TV from Frontier
Watching what you want, when you want is easiest with a TV subscription like DISH®, FiberOptic from Frontier or Vantage™ TV by Frontier.
If you subscribe to DISH, you also get access to the DISH Anywhere app. Available on iOS and Android, this lets you watch every channel you watch at home, including live sports and news. It also lets you manage your DVR from almost anywhere, set recording priorities, and delete what you've already watched.
Read More