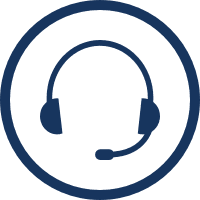 Internet that won't let you down when you work from home
The tools you need to get your work done right from the comfort of your home
As a professional who works from home, you rely on your phone and internet connection to communicate effectively with your team. You need an Internet connection that has the bandwidth for video chats and video conferences so that you can communicate clearly and effectively. Frontier® Internet and phone services make it so that you're practically in the office.
Are you Working from Home?
With Frontier Internet, you get the speed and bandwidth not only for regular Internet usage such as email or instant messaging, but also for video chat and video conferencing. With speed to spare, you don't have to worry about lagging in the conversation again.
Stay in the Loop When You Work from Home with Video Chat
It has never been easier to work from home and stay connected than with video chat. While you may not physically be in the building, video chat lets you still have a seat at the table. Video chat and video conferencing with Frontier Internet enables you to get the benefits of working from home without losing your voice on the team. Stay connected with video conferencing from Frontier Internet.
Get the Video Conferencing Equipment Best for You
Unless you're a professional actor, most of us don't like being on camera, but as a telecommuter or a home business owner, video conferencing is a necessary tool to keep in contact with your employer and clients. With the right video conference equipment, you can help yourself put your "best foot forward" even in a digital environment.
How much you should invest in video conferencing equipment is entirely based on how much time you spend conferencing with others online. If you use video conferencing less than once a week, and only to briefly check in with co-workers, using the built-in camera on your laptop is probably serviceable to your needs. But if you use video conferencing daily, investing in a nicer external camera and a better microphone will be worth it, especially if you're conferencing with potential clients.
Chat Online with Co-workers When You Work From Home
Use instant messaging to chat with co-workers or your boss when you work from home. Online chat apps like Slack, Skype or Google Hangouts, allow you to privately message co-workers while you work remotely. The ability to chat with your co-workers online when you work remotely gives you all the perks of the office life without the distraction. Use Frontier Internet to instantly message your co-workers and you will always be up to date on company communications.
Home Internet Service for your Home Office
If you are self-employed or have a home business, you rely on home Internet service to "go to work" and connect with clients and customers. Without home wireless Internet, video conferencing, or instant messaging, you would not be able run your business. With Frontier Internet, you will get the speeds and bandwidth to effectively get the job done.
Looking for Secure Home Phone Service?
Working from home requires dependable and private home phone service. With Frontier Home Phone and Internet services, not only do you get fast internet, but also secure and private landline phone service. Frontier phone service has many calling features that you'll love including:
Caller ID
International calling
Unlimited local calls
Dependable during power outage & emergencies
Secure call quality
Lighting-fast speeds
Oftentimes, landlines are more convenient for taking calls. Get Frontier Home Phone Services for a phone that is more secure than a mobile phone.
View Frontier Home Phone Packages