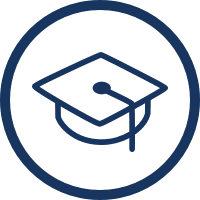 Get the Best Student Internet Deals Around
Student Internet plans for alphabet-learners, PhDs, and everyone in between
Internet for College Students
Get inexpensive and fast Internet service
Essays. Homework assignments. Quizzes. Whatever used to take place in the classroom with pen and paper can now be done online, and that means network-ready Internet for college students is a necessity. If you need Internet for college students, get Frontier.
What Frontier Internet Plans Have to Offer
The Internet is your literal campus, so the student discount Internet plan you choose is important. Whether you enrolled in e-learning to finish college, get your GED, or progress in your career, make sure your Internet plan can meet your needs. With student discount Internet plans you get:
Network-ready connection
so you can worry about getting the answers right, not about your Internet signal
High download speeds
to stream educational videos, background music for studying, or lectures at high quality
High Upload speeds
to submit work to your school's portal, take online tests, or participate in interactive lectures or forums
Internet for Lifelong Learners
When Internet learning is your hobby
Internet learning isn't just about formal higher education—it's also about being moved by powerful TED Talks, learning a YouTube Internet hack for cleaning your tile grout, or building a personal curriculum out of online learning platforms like Khan Academy, Lynda.com, and Coursera. With the right Internet plan, you'll have the bandwidth it takes to stream all those lessons and video tutorials.
Key Lifelong Student Internet Needs
Download Speed
Download speed so you can stream long or complex tutorials in full HD clarity
Bandwidth
Enough bandwidth so the gamers and streamers in your life can count on network-ready speeds
Internet for Homeschooling
Internet at home leads to better grades1
Technology in education makes a real difference, especially when it's accessible at home: researchers from Stanford found that students who can access the Internet via home computer get better grades and have fewer behavioral problems than students without a computer. As a homeschooling parent, you have the perfect opportunity to give your child fast and network-ready Internet access at home.
1Stanford Center for Opportunity Policy in Education (SCOPE). Promising Practices: A literature review of technology use by underserved students.
Best Uses of Internet for Homeschooling
Remember: Pick an Internet package with enough bandwidth to let you and your child work online at the same time. To pick the right bandwidth, just add together the total speed needed for each student and the speed you need as a teacher.