Jump to:
The top 25 most popular villain GIFs
Peak search date timeline
Top 7 villain GIF score
Fearful findings
Methodology
While texting has dominated the digital communication world for over a decade, communicating via moving images or GIFs has taken a lead in how people talk to one another. And it's not just silly images or heartwarming cartoons leading the way. Villians in the media are being used by people everywhere to get their point across.
From Scar à la Lion King to Pennywise from IT, when it comes to scary GIFs, there's no shortage of bad guys. So which spooky superstars take the cake for the most used GIFs? The team at Go.Frontier decided to find out. From Haddonfield to the hills of Mount Doom, here are the top *25 most popular villain GIFs.
The Top 25 Most Popular Villain GIFs
1. Scar
King of the GIFs will have to suffice for this wannabe King of the Jungle.
Amount of GIFs: 15,720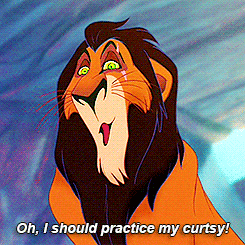 2. Michael Myers
Knife-wielding maniac Myers will have to set aside his feud with Laurie to claim his silver medal.
Amount of GIFs: 13,336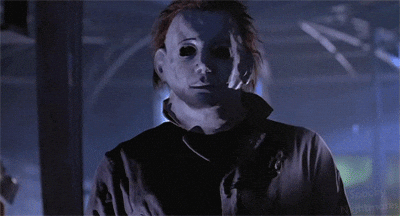 3. Wicked Witch of the West
This witch may not have gotten the ruby slippers, but she did nab 3rd place in the most popular GIF list.
Amount of GIFs: 10,013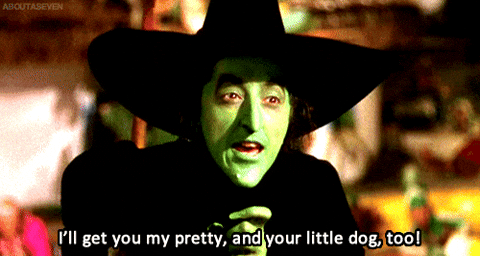 4. Jason Voorhees
Camp Crystal Lake is missing an occupant while Jason gains popularity as the 4th GIF on the list.
Amount of GIFs: 8,349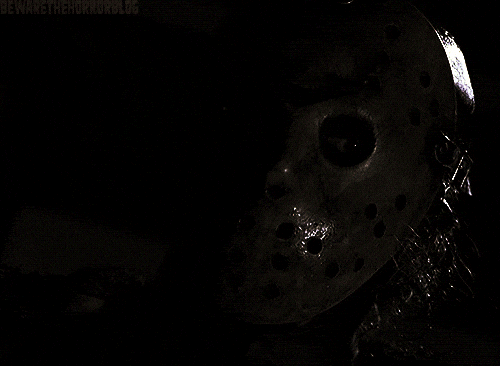 5. Agent Smith
The matrix collides with the real world as Agent Smith laughs his way to 5th place.
Amount of GIFs: 8,139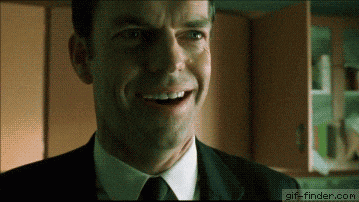 6. Patrick Bateman
Turns out money can't buy you happiness or the top spot for the list of popular villain GIF.
Amount of GIFs: 6,809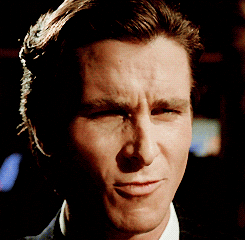 7. Jack Torrance
Jack Torrance shines in his 7th place spot for top most popular villain GIFs.
Amount of GIFs: 6,493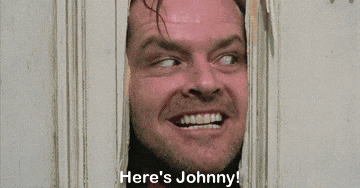 8. Tony Montana
Say hello to our 8th most popular GIF villain—just be sure to leave the cannolis.
Amount of GIFs: 6,242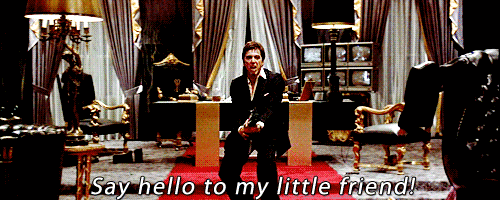 9. Pennywise
We all float too but only Pennywise makes it into the top ten GIFs.
Amount of GIFs: 5,606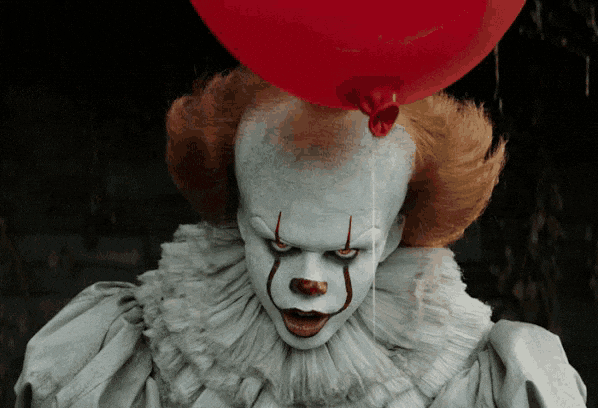 10. Sauron
This ring-welding fiend may have had his eye set to first place but comes in at 10th instead.
Amount of GIFs: 5,064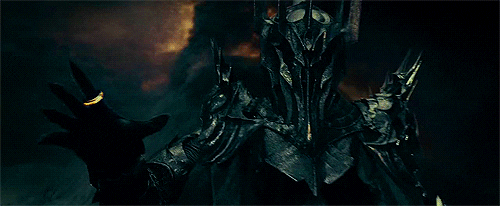 11. Saruman
It doesn't take a Palantiri to see that this villain makes for a classic 11th place GIF.
Amount of GIFs: 5,055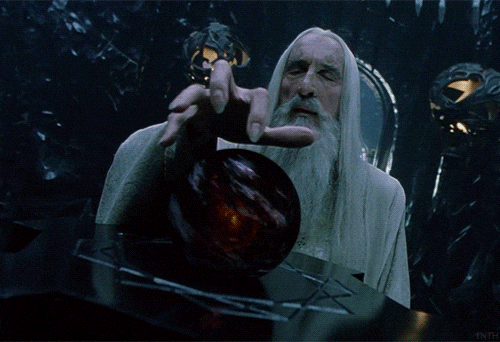 12. Norman Bates
We don't want to shower this motel owner with too much praise, but we hope he enjoys his stay at 12th place.
Amount of GIFs: 3,047
13. Lord Voldemort
He-Who-Must-Not-Be-Named casts a spell over our list of top 25 villain GIFs as unlucky number 13.
Amount of GIFs: 2,731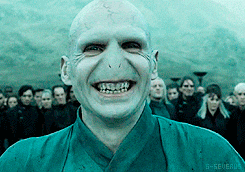 14. The Joker
This villain may have many faces, but one thing stays the same—people love a good Joker GIF.
Amount of GIFs: 2,690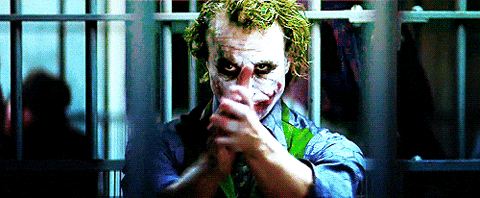 15. Hans Landa
Egotistical Hans Landa may have set his sights on the top 10, but his ambition can only get him so far.
Amount of GIFs: 1,862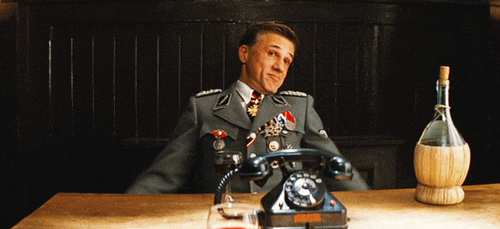 16. Hans Gruber
This famous villain may be more popular at Christmas time but it doesn't stop him from the top 25 most popular villain GIF list.
Amount of GIFs: 1,833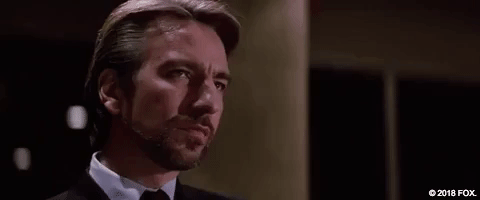 17. Freddy Krueger
Nightmares really do come true as Freddy leaves Elm's Street to snatch a spot in the top 25.
Amount of GIFs: 1,602
18. Darth Vader
The GIF force is strong with our 18th place winner.
Amount of GIFs: 1,246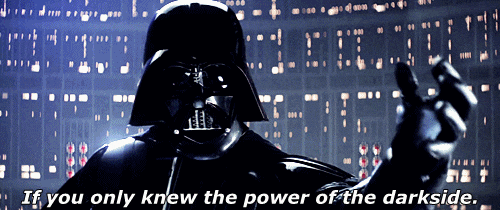 19. Thanos
It's going to take more than a snap to get this Titan to first place.
Amount of GIFs: 660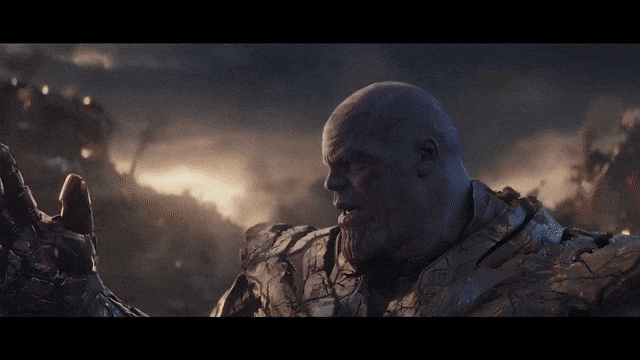 20. Loki
The god of mischief reigns as number 20 on our popular villains GIF list.
Amount of GIFs: 540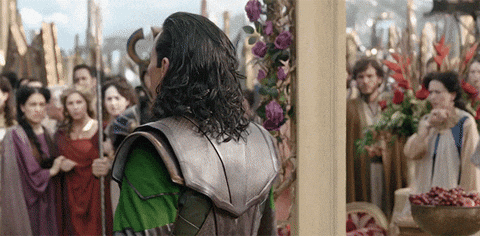 21. Bane
Bane may have been born in the dark but he's living large as the 21st contender for top villain GIFs.
Amount of GIFs: 505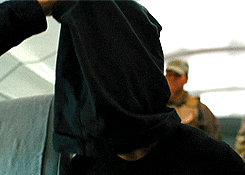 22. Hannibal Lecter
Hello Clarice, if you're looking for Hannibal you can find him lurking on our 22nd spot.
Amount of GIFs: 444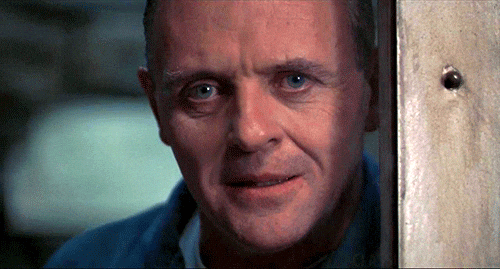 23. Palpatine
Good, good…Palpatine's journey to 23rd place on the top 25 most popular villain GIFs list is complete.
Amount of GIFs: 393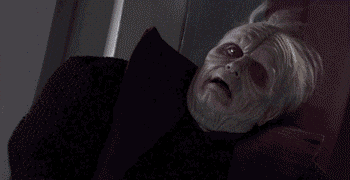 24. The Grinch
What does Christmas Eve and the Grinch have in common? They both come in on the 24th.
Amount of GIFs: 373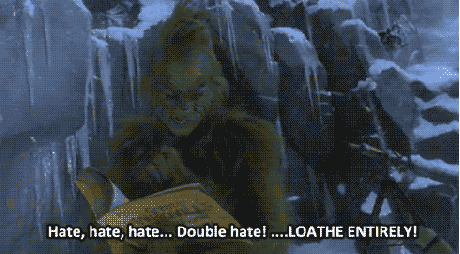 25. Gollum
The precious final spot in this GIF list is taken by none other than this tricksy villain who only has eyes for the One Ring.
Amount of GIFs: 225
This bar graph represents the top seven villain GIFs and their ranking. Y represents the number of GIFS while X is each villain.

Fearful Findings:
The most popular villain GIF from our GIF list was Scar from the Lion King (15,720) at 14 percent of all used villain GIFs.
The least popular villain is Gollum from The Lord of the Rings (225) or .2 percent of the total villain GIFs.
October 13, 2019 was a big day for The Shining fans. Jack Torrance was the most-searched-for villain that day.
Darth Vader was the most popular on May 4, 2020—possibly in celebration of the popular tribute May the 4th Be with You.
It Chapter Two came out on September 6, 2019, when search volume for Pennywise GIFs peaked the highest. It then increased again on October 31, 2019 (Halloween).
Although it's still up in the air if Die Hard is a Christmas movie, Hans Gruber was one of the most searched villain GIFs on December 24, 2019, alongside the Grinch.
On September 13, 2019, a Friday the 13th, Freddy Krueger and Jason Voorhees had the most search volume.
The villains with the highest search volume on Halloween were The Wicked Witch of the West from The Wizard of Oz and Michael Myers from Halloween.
Methodology
The team at Go.Frontier consulted seven different sources to determine the twenty-five most popular villains, and then ranked them in popularity based on the number of GIFs present on giphy.com in July 2020. The GIF-making site, Tenor, is included as one of the seven sources because it provided valuable data about the GIFs. Tenor was used to find the frequency of each villain searched and the dates it was most/least popular.
When you're looking for the perfect response and nothing but a GIF of Darth Vader yelling "Noooooooo" will do, power your villain language with an internet that will deliver.
Go.Frontier brings you a connection with speed to browse for your perfect GIF, dependable service to stay in touch, and bandwidth to slash through lag faster than Michael Myers. Connect now to stream, browse, and surf today.
Copyright Disclosure
This post is created by go.frontier.com and is in no way sponsored, endorsed, or approved by Marvel Entertainment, LLC, The Walt Disney Company, 21st Century Fox, DC Entertainment, or Warner Brothers.
*Each villain's total GIFs were calculated using giphy.com. Add that the data was gathered in July 2020.
Go.Frontier is an online authorized reseller of Frontier Communications. Please direct all media inquiries to javier.mendoza@ftr.com.
Image Sources
GIFs:
Scar- https://media.giphy.com/media/eD44Pqc11LkKk/giphy.gif
Michael Myers- https://media.giphy.com/media/nlgexSdFTWT9S/giphy.gif
Wicked Witch of the West- https://media.giphy.com/media/B8m1UM8OW0bmw/giphy.gif
Jason Voorhees- https://media.giphy.com/media/p69t8Ndmv5FU4/giphy.gif
Agent Smith- https://media.giphy.com/media/saD01LsKDzxL2/giphy.gif
Patrick Bateman- https://media.giphy.com/media/11kTQgng5gbqgM/giphy.gif
Jack Torrance- https://media.giphy.com/media/RoajqIorBfSE/giphy.gif
Tony Montana- https://media.giphy.com/media/BHfWOavrqAKuA/giphy.gif
Pennywise- https://media.giphy.com/media/xT9IgvEOwRzUcZDRiU/giphy.gif
Sauron- https://media.giphy.com/media/KdyT7uHPVyLe0/giphy.gif
Saruman- https://media.giphy.com/media/4NQ9mR6sh8LoA/giphy.gif
Norman Bates- https://media.giphy.com/media/rA8lrNQ70l2co/giphy.gif
Lord Voldemort- https://media.giphy.com/media/LLxwPAjfpLak8/giphy.gif
The Joker- https://media.giphy.com/media/gLINSQaqjpqko/giphy.gif
Hans Landa- https://media.giphy.com/media/ALvdHigd2gBqw/giphy.gif
Hans Gruber- https://media.giphy.com/media/57UktnJEGmmsdBzWx4/giphy.gif
Freddy Krueger- https://media.giphy.com/media/sZlPeAYn3QXCM/giphy.gif
Darth Vader- https://media.giphy.com/media/GIIC4jmmUlXZS/giphy.gif
Thanos- https://media.giphy.com/media/ie76dJeem4xBDcf83e/giphy.gif
Loki- https://media.giphy.com/media/8PsbM0OpqPl9OClfSw/giphy.gif
Bane- https://media.giphy.com/media/hl2bSna6KzrDq/giphy.gif
Hannibal Lecter- https://media.giphy.com/media/D6xIyf2XUCsM/giphy.gif
Palpatine- https://media.giphy.com/media/zCv1NuGumldXa/giphy.gif
The Grinch- https://media.giphy.com/media/rmTqhHqRaJWuY/giphy.gif
Gollum- https://media.giphy.com/media/HWFAUlreDsAdW/giphy.gif
Still Images:
Scar- https://m.facebook.com/DisneyTheLionKing/photos/a.353923181550/10155721529206551/?type=3&source=54
Michael Myers- https://www.facebook.com/HalloweenMovie/photos/a.299934033417032/1940730246004061
Wicked Witch of the West- https://www.facebook.com/TheWizardOfOzMovie/photos/a.272788350572/10161455241340573
Jason Voorhees- https://www.facebook.com/F13OFFICIAL/photos/a.215751798458858/1480157112018314
Agent Smith- https://m.facebook.com/TheMatrixMovie/photos/a.287981901240386/1382147408490491/?type=3&source=54
Patrick Bateman- https://m.facebook.com/AmericanPsychoOfficial/photos/a.233023960056501/233023963389834/?type=3&source=54
Jack Torrance- https://m.facebook.com/KubrickShining/photos/a.237827029678697/2073884012739647/?type=3&source=54&ref=page_internal
Tony Montana- https://www.facebook.com/ScarfaceTheMovie/photos/a.417380146831/417382176831
Pennywise- https://m.facebook.com/ITMovie/photos/a.1766763026973318/2442965409353073/?type=3&source=54&ref=page_internal
Sauron- https://m.facebook.com/lordoftheringstrilogy/photos/a.367374832436/10157109671057437/?type=3&source=54
Saruman- https://m.facebook.com/lordoftheringstrilogy/photos/a.367374832436/10153413418107437/?type=3&source=54
Norman Bates- https://m.facebook.com/PsychoTheMovie/photos/a.226623767349810/1075169029161942/?type=3&source=54&ref=page_internal
Voldemort- https://m.facebook.com/harrypottermovie/photos/a.422515109312/10156524254674313/?type=3&source=54
The Joker- https://m.facebook.com/darkknighttrilogy/photos/a.228878522787/10152887133752788/?type=3&source=54
Hans Landa- https://m.facebook.com/inglouriousbasterds/photos/a.75111410941/10152491005680942/?type=3&source=54&ref=page_internal
Hans Gruber- https://m.facebook.com/DieHardMovies/photos/a.180718572005389/976027412474497/?type=3&source=54
Freddy Kruger- https://m.facebook.com/ANightmareonElmStreet/photos/a.444063883514/10157223188083515/?type=3&source=54&ref=page_internal
Darth Vader- https://m.facebook.com/StarWars/photos/a.184244804960462/683097721741832/?type=3&source=54
Thanos- https://www.facebook.com/avengers/photos/a.229675623757118/2029721207085875
Loki- https://m.facebook.com/Thor/photos/a.234682366567973/650377854998420/?type=3&source=54
Bane- https://m.facebook.com/darkknighttrilogy/photos/a.228878522787/10158200289827788/?type=3&source=54&ref=page_internal
Hannibal Lecter- https://m.facebook.com/TheSilenceOfTheLambsMovie/photos/a.166918106696895/334121409976563/?type=3&source=54
Palpatine- https://m.facebook.com/StarWars/photos/a.184244804960462/2020266444691613/?type=3&source=54
The Grinch- https://m.facebook.com/HowTheGrinchStoleChristmas/photos/a.219254531485007/300491116694681/?type=3&source=54
Gollum- https://m.facebook.com/lordoftheringstrilogy/photos/a.216614472436/216620317436/?type=3&source=54